Information for your manager
The Domestic and Family Violence Response Training Program (DV-alert) is funded by the Department of Social Services (DSS) under the National Plan to Reduce Violence against Women and their Children 2010-2022. This training program is delivered by Lifeline to health, allied health, higher education, childcare and frontline community workers/volunteers.
This training will support workers to feel more confident about recognising and responding to signs of domestic and family violence, and assist them to make appropriate referrals to available services or resources within their community.
Financial support payments are available to assist employers to release staff by way of back-fill payments, and to assist students to attend a DV-alert two day workshop if travel and accommodation is required in regional and remote areas. DV-alert is fully supported and funded by DSS.
Any employer with eligible staff for Financial Assistance and are attending a DV-alert workshop can claim locum payments in cases where the employer must backfill an employee's position.
Locum payment is capped at $275 (incl. GST) per day for a maximum of two days $550 (incl. GST) in total and will be reimbursed directly to the employer.
In order to claim locum payment an employer must complete and sign Section 4 – Employer Locum Support of the DV-alert Financial Assistance Application Form, attach appropriate evidence and submit an organisation invoice to make a claim.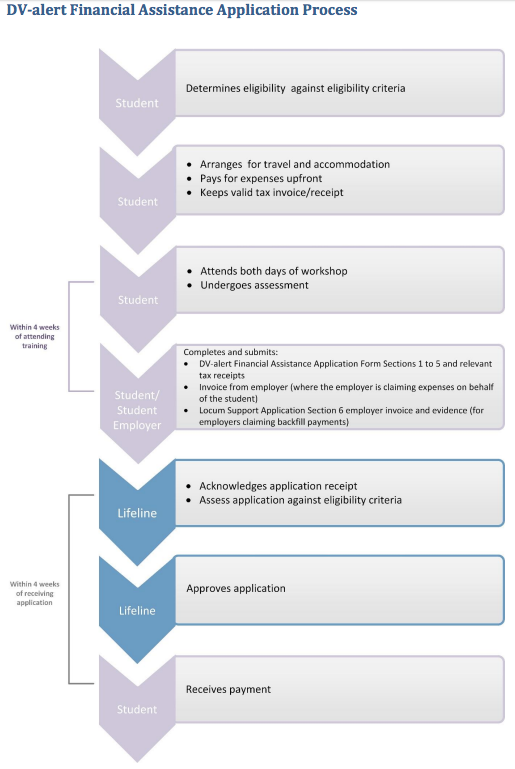 ---