This is a two-hour interactive presentation on family violence specifically for Aboriginal and Torres Strait Islander men. The presentation provides a space for Aboriginal and Torres Strait Islander men to learn and talk about family violence and the impact on Aboriginal and Torres Strait Islander families, giving the basis to start reflecting on what you can do to prevent family violence in your community.
---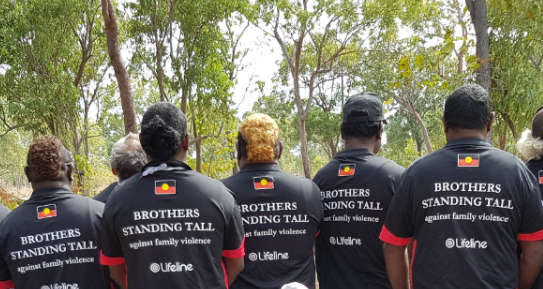 ---
What will I learn?
You'll walk away with a basic understanding of these issues, and tools that will guide you to recognise family violence, providing you with the foundations to assess what you can do as an individual or group to prevent family violence.
Enrolment
To be eligible for Brothers Standing Tall session, you must be an Aboriginal and/or Torres Strait Islander male, aged 16 years or older who:
is community-minded; and
see yourself as having the potential to be a role model in the community.
If so, then you can enrol in a Brothers Standing Tall awareness session in your community.
Find out where Brother Standing Tall sessions are going to be held in your state and territory and click on your preferred session to begin the sign-up process.
Fees
DV-alert awareness sessions are free of charge to all eligible participants.
Brothers Standing Tall is available for Aboriginal and Torres Strait Islander men
---
---
TestImonials
'The participants welcomed the concept of Aboriginal Men finally coming together to discuss and share views relating to violence within their families and community'
B. Hodges – Lifeline Trainer delivering Indigenous Stream and Brothers Standing Tall, regional VIC